Welcome to Lamplighter Inn Downtown San Luis Obispo Ca.
The Lamplighter Inn & Suites Hotel in San Luis Obispo CA

Lamplighter inn & suites hotel in San Luis Obispo, Ca It's no secret that San Luis Obispo — known by the locals as SLO—is a gorgeous central California town replete with attractions, character, sunshine and charm to spare. With so much to do—from beach excursions and wine country trips to Hearst Castle tours and trips to our famous Farmers Markets—you'll want to stretch your vacation dollar as far as possible and Lamplighter Inn and Suites in San Luis Obispo can help you do that.

Our San Luis Obispo Hotel Has it All

When you stay at our Lamplighter Inn & Suites in San Luis Obispo, you'll be treating yourself to comfortable accommodations for your family without shelling out inordinate amounts of cash. Our San Luis Obispo hotel's many amenities and convenient location make us the perfect addition to your family's budget-conscious vacation itinerary. We also have military discounts at our San Luis Obispo Hotel.

Why Stay at Our San Luis Obispo Hotel?

Friendly & Knowledgeable Staff
Close to Numerous Area Attractions
Fantastic Hotel Amenities in San Luis Obispo Including Swimming Pool
Conveniently Located in the Heart of Downtown
Spacious, Comfortable & Affordable Accommodations

Location.
Conveniently near the airport in the heart of San Luis Obispo, Lamplighter Inn and Suites Lamplighter is close to Motel Inn of San Luis Obispo, Mission San Luis Obispo de Tolosa, and Dallidet Adobe and Gardens. Also nearby are Fremont Theater and San Luis Obispo Little Theatre.

Property Features.
Lamplighter Inn and Suites of San Luis Obispo California Hotels and Motels has a spa tub, a 24-hour fitness center, and a seasonal outdoor pool. Complimentary wireless Internet access is available in public areas. A complimentary breakfast is available. The staff can provide concierge services and wedding services. Additional amenities at this San Luis Obispo Hotel is a Art Deco property include multilingual staff, laundry facilities, and coffee/tea in the lobby. Complimentary self parking is available onsite for guests. The property has designated areas for smoking.

Guestrooms.
Rooms open to balconies. The 77 air-conditioned guestrooms at Lamplighter Inn and Suites Hotel in San Luis Obispo California include laptop-compatible safes and washers/dryers. Beds have Select Comfort mattresses and premium bedding. Guests can use the in-room complimentary wireless high-speed Internet access. Televisions are equipped with premium cable channels. All accommodations provide desks and complimentary weekday newspapers; free local calls are offered (restrictions may apply). Bathrooms offer shower/tub combinations, hair dryers, and complimentary toiletries. All units feature microwaves, refrigerators, and coffee/tea makers. Additional amenities include irons/ironing boards and blackout drapes/curtains. Housekeeping is offered daily.

This Inn is apart of all great San Luis Obispos Hotels and Motels with great tradition or hospitality and lodging.

Events in San Luis Obispo near Lamplighter Inn and Suites Hotel
San Luis Obispo Symphony
Sunday, December 31, 2017, 730 PM
Performing Arts Center
1 Grand Avenue, San Luis Obispo, CA

Jan. 1st
LOS OSOS and BAYWOOD PARK FARMERS MARKET
Shop for the freshest local produce, direct from the farmers who grow it. Fresh, local, sustainable and healthy foods for your family.
Shake the hand that feeds you and meet the community at Farmers Market. All of the produce, meats, eggs and prepared foods are grown or made by the folks who are selling them. Youll taste the difference. Shopping at Farmers Market feeds the body and the soul.

Jan. 1
PIER TO PLUNGE
Welcome to the second annual Pier to Plunge Come start the New Year off with some healthy fun. The run will take place entirely on the beach and start and finish right by the historic Pismo Beach Pier. And as an added bonus, you will have the opportunity to earn your Pier to Plunge beanie by taking the plunge after your finish Dont let everyone tell you what you missed out on, sign up now and kick off your New Years Day the Pismo way. Kick off the New Year with some FUN.

Jan. 3rd 3 to 6pm
ATASCADERO FARMERS MARKET
Stroll the Sunken Gardens while enjoying the weekly Atascadero Farmer's Market.
Atascadero Sunken Gardens
Atascadero

MOSAIC PLAY DAY
Saturday, January 6th
130 to 430 p.m.
Art Center Morro Bay
835 Main Street Morro Bay
Teacher Joan Martin Fee
All projects are super simple and perfect for a beginner. Everything is provided to complete a mosaic project including use of tools, the base piece, broken china pieces, baubles, glue, grout and instruction. Class fee ranges 40 to 85. PREREGISTRATION IS REQUIRED Contact Joan Martin Fee for additional info at 805-286-5993.

OZOMATLI
Ozomatli in downtown San Luis Obispo on Thursday, January 11!
SHOW INFORMATION
Door Time 8 PM
Show Time 9 PM
TICKET OUTLETS
Boo Boo Records
978 Monterey St SLO
Mon thru Wed 10to 8, Thurs thru Sat 10to9, Sun 11to6

PETTY THEFT - San Francisco Tribute to Tom Petty and the Heartbreakers will be LIVE in downtown SLO on Saturday, January 13, 2018. This show will feature two special tribute sets to Tom Petty. See you there
SHOW INFORMATION
Door Time 7 PM
Show Time 8 PM
All Ages
TICKET OUTLETS
Boo Boo Records
978 Monterey St SLO
Mon thru Wed 10to8, Thurs thru Sat 10to9, Sun 11to6

CAL POLY BACH WEEKS BACH IN THE MISSION CONCERT BACH AND THE ITALIANS
Bach Week concludes with Bach in the Mission VIII Bach and the Italians. Cal Polys Early Music Ensemble, members of the Cal Poly Symphony and faculty join with professional guest artists to perform the music of J.S. Bach and his contemporaries Pergolesis Stabat Mater, interwoven with Bac's Tilge, Höchster, meine Sünden, BWV 1083 an arrangement of Pergolesis Stabat Mater Vivaldis Concerto in A Minor for Two Violins, Op. 3, No. 8 transcribed by Bach as BWV 593, with violinists Martin and Wilson and Bachs Magnificat, BWV 243.

CAMBRIA ART AND WINE FESTIVAL
This three day celebration of wine and art on the Central Coast features a Kick off Party with five course dinner and wine pairing, a two day art show and wine tasting, plus many offsite activities including an art auction and additional wine tastings throughout the villages. The seaside village of Cambria hosts this event to showcase both art and the spectacular vineyards of Cambria, Paso Robles and the Central Coast. The event benefits the Cambria Chamber of Commerce and the Allied Arts Association.

ART AFTER DARK
Art After Dark is a free, selfguided tour of galleries and non-traditional art venues think salons, jewelers, museums, etc. showcasing the work of local visual, literary and performing artists. Held the first Friday of the month in downtown San Luis Obispo, its an evening of art, community and culture Art After Dark is a program of ARTS Obispo. Venue locations can be found by visiting artsobispo.org.
---
Hotel Features
Free High Speed Internet WiFi
Free Buffet Continental Breakfast
Free Parking
Free Local Calls
24 Hour Desk
Seasonal Pool and Spa
24 Hour Fitness Center
Meeting Room
Cable TV with Extended Premium Channels
Select Comfort Mattresses Premium Bedding
Fridge,Microwave, Coffee Maker, Hair Dryer
NO Pets Allowed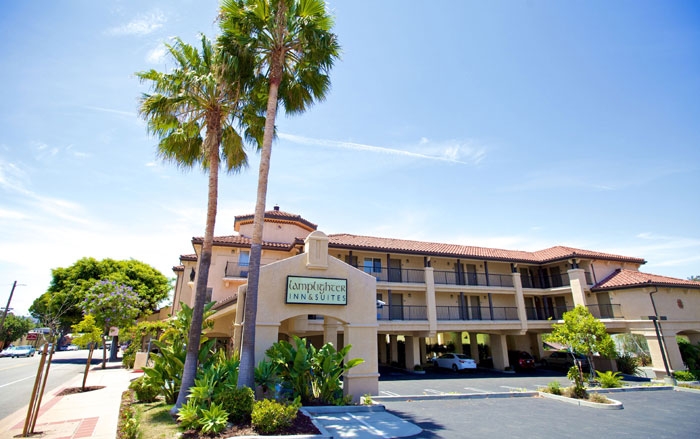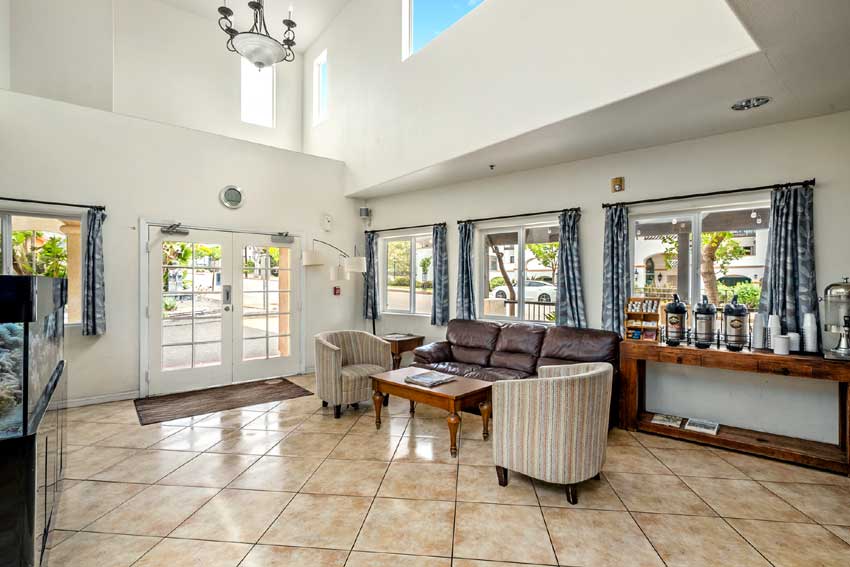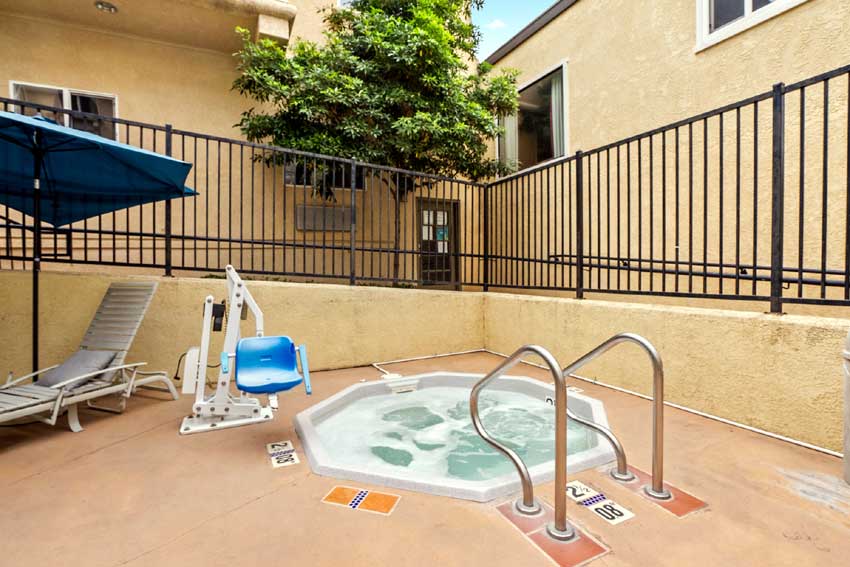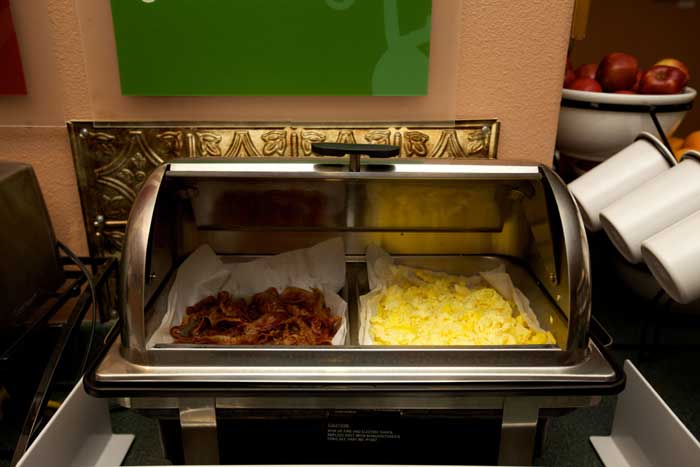 Activities : Warm, sunny days, cool nights, mountains and beaches and friendly people are good enough reasons to visit San Luis Obispo County. But don't forget our flora and fauna! For starters, find the latest in whale watching, orchid shows, elephant seal watching, birding, dunes walks, and other activities, by consulting the comprehensive, regularly updated calendar of nature events in San Luis Obispo County.
Airport : Located just south of the City of San Luis Obispo, the San Luis Obispo County Regional Airport serves areas as far north as Southern Monterey County and as far south as Northern Santa Barbara County. The airport offers convenient access to and from the Central Coast.
Attractions : Held every Thursday night, Farmers' Market brings the community together to shop for fresh produce, sample San Luis Obispo's delectable and varied cuisine, browse local shops, listen to live music and interact with local entertainers.
Attractions : Here you'll find the best of San Luis Obispo County's abundant opportunities to enjoy the outdoors and experience its unique beauty, history, arts and culture. Our mild, sunny climate, pristine beaches, world-class surf, stunning peaks and lakes, and quiet country roads offer something for everyone who enjoys the outdoors. You'll find popular attractions such as the famous Hearst Castle, historic missions
Casinos : The fabulous Chumash Casino Resort offers gaming at its exhilarating best, including an array of the most popular slot machines, and table games like Blackjack and Poker. Or play Bingo in our smoke-free Samala Showroom.
Dining : San Luis Obispo -- A friend joked that the dining scene is San Luis Obispo is SLO food, meaning you won't find Michelin stars but you will encounter wonderful comfort food, locally sourced ingredients, fun servers and some eye-catching locations.
Downtown : San Luis Obispo, California was awarded The Great American Main Street Award in 1999 by the National Trust For Historic Preservation. Since 1995, this esteemed award has been presented to five US Cities each year, recognizing them for their successful preservation-based downtown revivals.
Events : There's so much to do in San Luis Obispo and this app puts it all in your back pocket. Whether you're a visitor or a "SLOcal," this app gives you everything you need to have an amazing time in "America's Happiest City."
Golf : Below is our comprehensive list of golf courses in the San Luis Obispo, California area. We list them by proximity to San Luis Obispo, including courses in neighboring cities.
Government : Here you'll find services and information for residents and visitors of San Luis Obispo County, including voting information, official records, taxes, community services, employment opportunities with the County, and local areas of interest.
Hospitals : Most admissions, including those for surgeries and registrations for testing and imaging services take place in our main lobby, located at the front of the hospital. Admission and Registration is also provided at French Hospital Medical Center Emergency Care, located just to the left of the main lobby entrance. Patients will be directed to the appropriate location by our admitting staff.
Shopping : A keepsake acquired during a trip can often help you recall all of those wonderful memories created every time you look at the souvenir, no matter how big or how small the keepsake might be. Saunter from kitschy local boutiques to the familiar shops as you make your way through our historic downtown.
Sports : A key component of Cal Poly Athletics' commitment to achieving athletic and academic excellence is an unrelenting focus on developing athletic facilities that are state of the art and provide compelling environments for athletes and fans.
University : Cal Poly is a nationally ranked, four-year, comprehensive public university located in San Luis Obispo California. The emphasis of the University is a "learn by doing" educational experience for its more than 18,000+ students.
Wineries : Come taste for yourself. Take a leisurely, laid-back wine-tasting tour of our beautiful county's most revered wineries and vineyards.
Welcome to our great hotel in San Luis Obispo California with affordable rates and cheap budget discount lodging. Lamplighter Inn Downtown SLO welcomes you to our budget hotel in San Luis Obispo California. Lamplighter Inn Downtown SLO will provide you excellent customer service with great amenities in comparison to all Hotels and Motels in San Luis Obispo California. Please visit us on your next stay in San Luis Obispo California and let us provide you with 4 star hispoitality for 2 to 3 star budget rates. Lamplighter Inn Downtown SLO has been providing lodging and accommodations in San Luis Obispo California for sevral years and looks forward to providing our valued customer and business traveler with the best service in San Luis Obispo California for Hotelsand Motels in our local area.
Lamplighter Inn Downtown SLO San Luis Obispo California CA Hotels Lodging Accommodations Budget Affordable Motels Cheap Vacation Packages Specials Pet Friendly Weddings Business Travelers Business Meetings Extended Stay. Lamplighter Inn Downtown SLO is one of the finest Hotels and Motels in San Luis Obispo California